Launching The Ketch & Yawl Press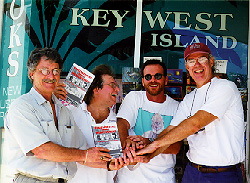 (LtoR) Frank Simons and James Plath, with publishers
John Boisonault and Tom Corcoran--Key West, Fla.,
July 21, 1999 (Hemingway's 100th birthday)
James Plath ran with the bulls in Pamplona and directed the Hemingway Days Writers' Workshop & Conference in Key West for ten years. A professor of English at Illinois Wesleyan University, he has also published on John Updike and Raymond Carver, and, as editor of Clockwatch Review (a journal of the arts) has interviewed such creative talents as Jimmy Buffett, Dawn Upshaw, Romare Bearden, Buddy Guy, Vincent Price, and Arlo Guthrie.
Frank Simons completed his Hemingway graduate research at the University of Wisconsin. He presently teaches American literature and creative writing at Sarasota (Florida) High School. Mr. Simons has a novel in progress on the Klondike Gold Rush, is the author of poetry and short stories, and is involved in a pilot program that measures student curriculum mastery via computers. Any free time is spent fly fishing for North Carolina, Hiwassee River rainbow/brown trout.
Remembering Ernest Hemingway is the first book published by The Ketch & Yawl Press, a project of Key West Island Books owner John Boisonault and Key West mystery writer Tom Corcoran (The Mango Opera, Gumbo Limbo), who hope to create a title list featuring books with Key West connections. Their second offering, The Key West Collection--reprinted columns by often-outrageous Key West Citizen writer Dorothy Raymer--is also available.
---