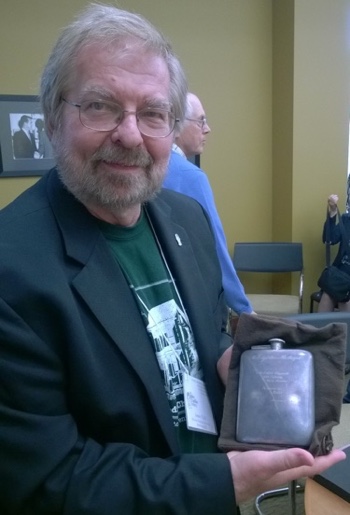 Welcome to the home page of James Plath,
R. Forrest Colwell Endowed Chair & Prof. of English
at Illinois Wesleyan University, past-president of the Illinois College Press Association, faculty adviser to the campus newspaper, and president of The John Updike Society, which owns and operates The John Updike Childhood Home in Shillington, Pa.
(Photo: Holding flask given to F. Scott Fitzgerald by Zelda - Matthew J. & Arlyn Bruccoli Collection, University of South Carolina.)


CLASS OPERATION?
In fall 2021 I'm teaching the following classes:

Film 110: Film Aesthetics

English 101: Introduction to Creative Writing

Journalism 325: Feature Writing

Current or prospective students can access basic information about me and other courses I teach at my E-vita. For other departmental or university information, consult the Illinois Wesleyan University home page. If you need to contact me, please email jplath@iwu.edu.

Early case of senioritis? Classes getting you down? Out of school, but thinking of returning? Try this booster. Thinking of taking a semester off-campus? I highly recommend that you consider IWU's London Program, Denmark's International Studies Program (nearly everyone in Copenhagen speaks English!).


A REMOVABLE FEAST!
Feel free to download these quotes I've assembled:


THE ARGUS
One good indicator of campus life is the student newspaper. Since 1988, I've been privileged to serve as faculty adviser to The Argus, one of the oldest, continuously published college newspapers in America.



WRITING PROJECTS
I just finished Critical Insights: Conspiracy, and before that The 100 Greatest Literary Characters for Rowman & Littlefield (co-written with Kirk Curnutt and Gail Sinclair). Up next: a creative project and a book on John Updike's The Maples Stories.

I've been a film critic for various sites since 2000, as well as a longtime member of the Online Film Critics Society. I currently write movie reviews for my blog, FamilyHomeTheater.


Questions or comments should be directed to: jplath@iwu.edu